PITB's DLIMS issued more than 6.5 million driving licenses all over Punjab
---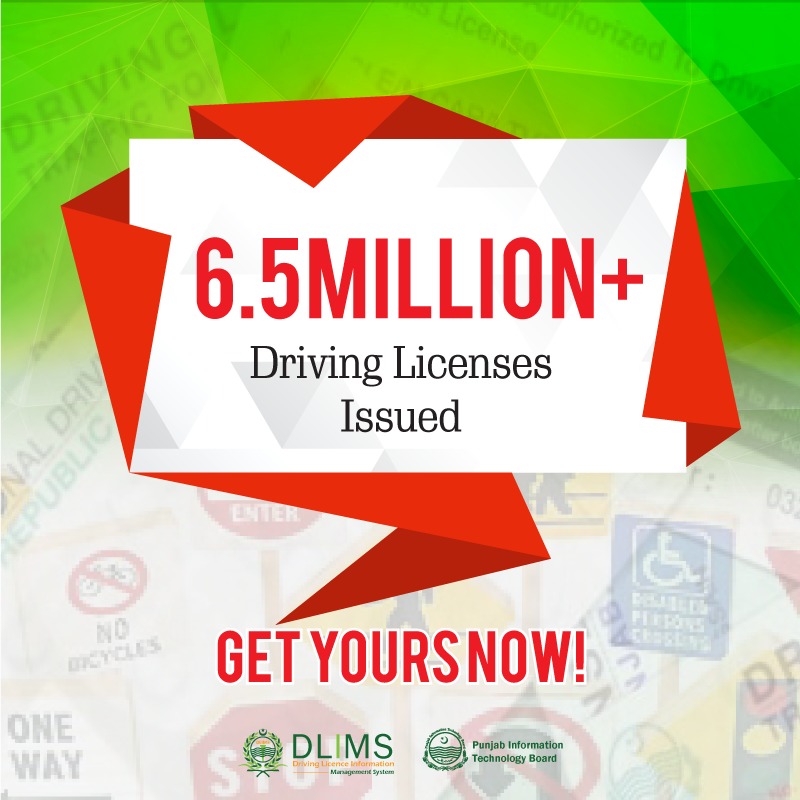 Getting a driving license has been major issue since years. It is time taking and it can be one of the most torturing tasks to do. PITB (Punjab Information Technology Board) has devised a solution and  launched Driving License Issuance and Management System (DLIMS). With this people of Punjab, Pakistan will not have to suffer the problems and get their licenses issued soon.
According to the PITB official facebook page, Driving License Issuance and Management System issued more than 6.5 million driving licenses all over Punjab.
DLIMS is the initiative taken to make the process of sending application and then receiving the license quick and easy. The website has the ways to submit application and now about delivery details.
You can verify the driving license online here.
How to Apply for a Driving License in Punjab:
To apply for a driving license you need to follow really easy steps. We have enlisted them below:
Log into the DLIMS website,
Go to the downloads section to obtain the relevant form,
Go to the Licensing Centro tab and look for the one closest to you,
Submit your all of your documents required for obtaining a license,
Appear before licensing authority in person, after 42 days of learning period,
Pass the theoretical test,
Pass a driving test.
Required Documents to Apply for Driving Licenses in Punjab:
Certain documents are needed to be sent for a duplicate license, new international license or to re-issue a license. The required documents are listed below:
For Learner's License:
If you are a beginner and want to apply for a learner's license you need to send these documents:
A copy of C.N.I.C
A Ticket of Rs.60 from any Post Office.
Receive Code Book of Traffic Rules & Regulation from Traffic Police Office.
Medical Certificate (for the candidates of 50 years or more),
The age limit for the learner's permit is 18 yrs for Motorcycle/ Car, LTV (Rickshaw, Taxi, Tractor Commercial) and 22 yrs for HTV
For Permanent License:
For issuance of permanent license
Application Form (A) within File Cover
Original Learner Permit of at least 6 weeks.
Medical Certificate
3 Passport Sized Photograph (Attested)
An Attested Copy of C.N.I.C.
Paste a Ticket of Mentioned Fee on License Document.
For Renewal of a Driving License:
If your license has been expired and you want to renew the license you need to send these documents:
Required Application Form E within File Cover
2 Passport Sized Photograph
A copy of NIC
Original Driving License
Medical Report
A Ticket of relevant License
The renewal fee for Motorcycle is PKR 500, For car LTV (PSV), Tractor Commercial PKR 750 and for HTV (PSV) PKR 1000. The license will be renewed for five years.
For International License:
For an international license you need to send the following documents:
Required International Application Form within File cover
An attested copy of C.N.I.C.
A copy of Valid Driving License issued from Lahore.
A copy of Pakistani Passport valid for at least 6 Months with Visa
2 attested Passport Sized Photographs
Rs. 66 Court Fee Ticket.
Rs. 450 Bank Challan Fee.
The applicant is also required to bring his original C.N.I.C, Driving License and Passport with him.
For Duplicate License:
In case, you have lost your license or it has been damaged mistakenly you can request a duplicate license by sending the following documents:
Required Duplicate Application Form within File Cover
An attested copy of C.N.I.C.
2 Attested fresh Passport Sized Photograph
Report from Computer section for Computerized License or A certificate issued by relevant Post Office which expresses the expiry date of the license.
FIR (Lost License report) of the Police Station
Tickets will be pasted according to the schedule
The duplicate fee for Motorcycle is PKR 100, for car LTV PKR 150 and for HTV PKR 200. The license is renewed for five years.
Though the system has not completely shifted to digitization as still the records are kept manually but still a lot has been changed to make it effective and digitized. The person will have to visit the office for sure regarding making of the license either new or old. The applicant needs to take hard copy of all the documents along to the office.
---