Top Trending Apps and Games in Google Play Store 2016
Posted On January 1, 2017
---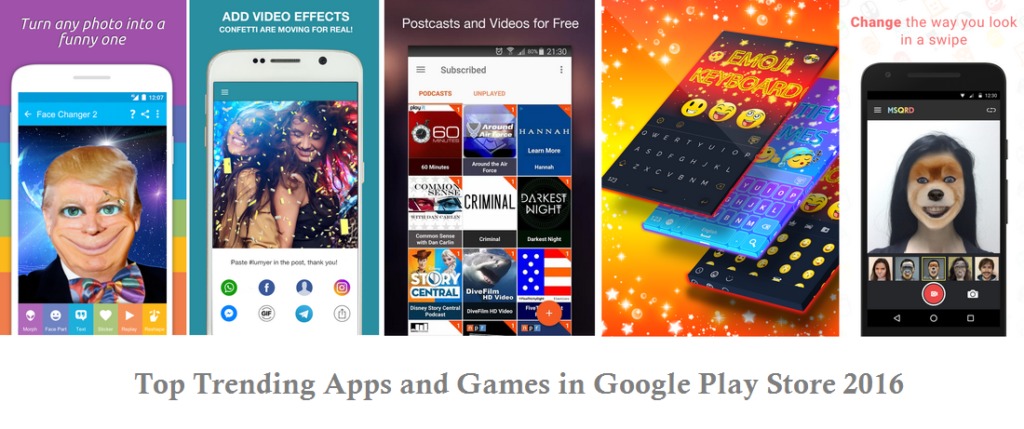 Top Trending Apps and Games in Google Play Store 2016
Almost every one of us has used Google Play store in 2016 for downloading various games and applications of our interest. In early December 2016 Google Play store released some stats featuring the most favorite apps and games of people during the year 2016.
With the increasing users on Facebook, Instagram, Snapchat, Twitter and other social sites the number of uploads have increased dynamically. People have become more expressive and use emojis to express their feelings or mood. Where we talk about pictures we must mention various life adding filters.
This year following top trending apps associated with fun and pictures remained on the top.
Top Trending Apps of 2016
With a rating of 4.3 this app that was developed by Scoompa was downloaded the most. It is because of its fun features that were love by everyone. The features not only included swapping of faces with friends but also with favorite characters. This Face changer mobile app took editing to a new level. The heads can be morphed and different accessories can be added to the picture. Even the background can be change and text can be added.
Lumyer – Photo & Selfie Editor
With a rating of 4 .5 the app landed on second number. It was developed by Lumyer Inc. This mobile app is not just about adding filters but it is equipped to ass animated effects to the pictures. Also the app allows you to click video recordings with animations. It is easy to share and save the picture in a desired format via this app.
With a rating of 4.6 this app was developed by CastBox.FM. With the help of this app you can subscribe to others and listen to their content. It also allows you to download and share MP3 files.
With a rating of 4.2 this all that was developed by Free Fun Apps managed to score 4th rank in annual stat. This allows you to add different crazy emojis. It also gives you several amazing themes and supports a number of languages.
With the rating of 4.3 this app was developed by Facebook Social. It allows you to capture recordings. It records animations with animals, flags of different countries and others various themes.
Click here to read next: Top downloaded mobile games in 2016
Also to find the list of Google Play's top streamed songs, movies, TV shows and books click here.
---
You may also like