Top 10 World's Richest People in 2016 – Bill Gates is No. 1
Posted On January 1, 2017
---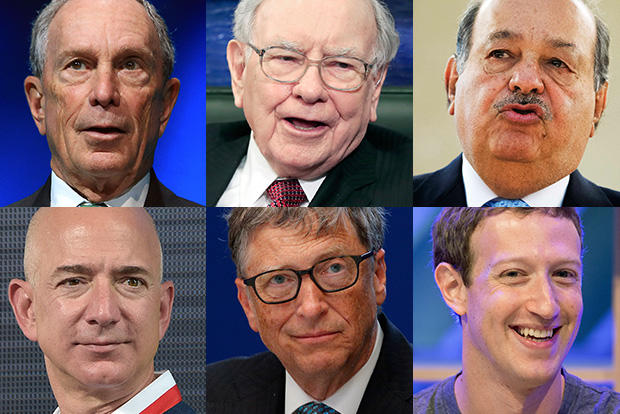 Dealing in millions and making a fortune the top 10 richest people of 2016 are revealed by Forbes.
Forbes has ranked the men according to their worth in 2016. The top 10 people having the highest net worth are listed. They have competitors and they competition is quite tough.
1. Bill Gates – Worth $75 Billion
This man remains unbeatable for years now. For last 17 years he has topped all the richness charts. He is a well-known philanthropist and owns Bill & Melinda Gates Foundation.
He founded Microsoft in 1975. He keeps selling his shares and now his only share is about 2.5%. It is enough to make him richest men around the globe.
2. Amancio Ortega – Worth $67 Billion
Ranked 2nd worldwide but he is richest in Europe.
He started his business along his wife with a clothing brand named Zara in 1963. He is the founder of Inditex. His work is loved by people all around the world and that makes him the second richest man on Earth.
3. Warren Buffett – Worth $60.8 Billion
This man always makes it to top three richest people in world. For years he had been ranked 2nd. It is only this year he is ranked 3rd. He is the owner, CEO and Chairman of Board of Berkshire Hathaway Conglomerate, he is also a philanthropist. He is not only rich by bank balance but rich by heart too because after all the net worth he leads and simple life and is very humble.
4. Carlos Slim Helu – Worth $50 Billion
He is the owner of America Movil. America Movil is the biggest brand of telecom in Mexico. That is the reason Carlos is the richest man of Mexico and managed the 4th rank in worldwide ranking.
5. Jeff Bezos – Worth $45.2 Billion
He is the founder and CEO of the world's biggest and most famous online store, Amazon.com. His journey started with selling books online and then the business got wings. He has also been featured in Star Trek Beyond in 2016 as an alien.
6. Mark Zuckerberg – Worth $44.6 Billion
The founder of the most used and loved social platform, Facebook; Mark made it to 6th richest man of 2016. The value of Facebook stocks increased to 15% and that landed the name of Mark to top 6 richest people.
7. Larry Ellison – $43.6 Billion
Founder and Owner of Oracle managed to be the 7th richest man in the world. He founded Oracle in 1977 and now had retired from CEO ship of the company but is still the chairman and chief technology officer.
8. Michael Bloomberg – $40 Billion
He is the owner of Bloomberg L.P. It is a privately held financial software, data and media company which mostly focuses on business news online. In 1981 he found Bloomberg LP along with his teammates Tom Secunda, Chuck Zegar, and Duncan MacMillan. He is also the ex-mayor of New York City. This makes him the 8th richest man of the world.
9th and 10th Charles Koch and David Koch – Worth $39.6 Billion
These two brothers have made it to the top 10. They have inherited oil and refinery business in 1967 from their father. They expanded their business and formed Koch Industries with $100 Billion in sales volume. Koch Industries is involved manufacturing of chemicals, pipelines and commodities trading.
---