Daewoo launches its own ride-hailing app competing with Uber and Careem
---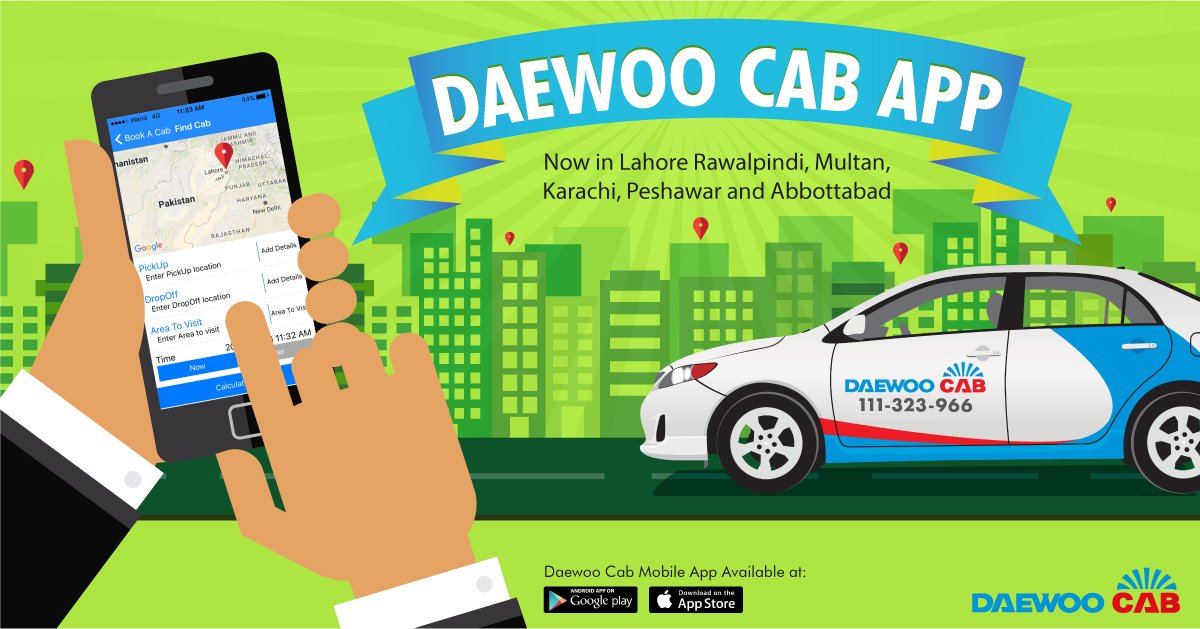 Daewoo ride hailing app launches to compete Uber and Careem
Gone are the days you would have to hail your hands and wait for a Rickshaw to stop. The booking of Cars nowadays is a matter of a click. With Uber and Careem competing over the customers, a new yet so familiar name has appeared on the scenes.
Daewoo imitates Nokia. Both went up soaring into success but with an imminent decline. Premium Daewoo Cab service would control the monopoly of transport then but with the rise of caand Uber, has been reduced to wilderness of its glory.
Struck by the desire to reclaim its glory Daewoo has returned with an App that, for now, spreads its wings in Karachi, Lahore, Islamabad, Rawalpindi, Multan, Peshawar, Abbottabad, Sialkot, Faisalabad and even Sukkur. The residents of Karachi would avail Rs.300 off their first ride by using Promo code: DAEWOOFIRST.
Daewoo Cab App appears to be a simpler version of either Careem or Uber, using just 6MB of space while both the latter rank up over 30MB. The animations are simple which may act in its favour. It however appears as Daewoo aims at utilizing all its luxury on road!
Aiming for the inclination of Upper Class, Daewoo costs twice that of Uber or Careem. You can pay through Easy Paisa, Debit/Credit Card and some other payment options.
You must sign up or sign in for the first attempt. Google Map has been integrated for fare collection and the app even shows your travel history. Better hide it from your parents!
Download the App:
Daewoo aims at the Upper Class of Pakistan society, providing luxury cars and charging higher than either Careem or Uber. Ironically the Upper Class is never short of Cars.
With such limited genre, stiff competition, and higher rates the future of Daewoo seems uncertain, in my book to say the least. But time unfolds unheard mysteries! Who knows, you may be reading contents on how a creative idea brought about regeneration of Daewoo Cab Service, in short space of time.
Daewoo Cab Screenshots
---
You may also like