Compare Best Prices For Mobile Phone In Pakistan
Posted On November 17, 2016
---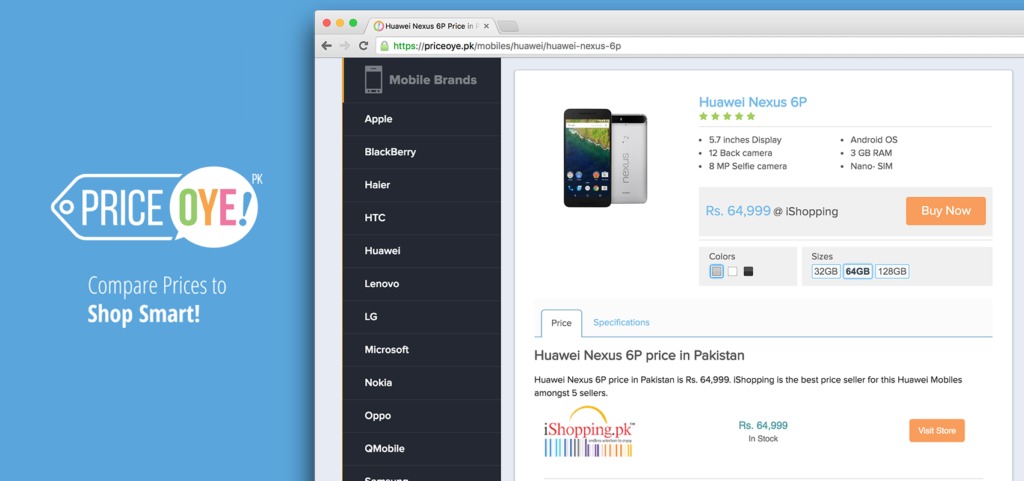 Searching for phones online? Can't bargain? Where online shopping or browsing is providing so many benefits like saving of time, at the same time it is sometimes difficult for everyone to find a mobile with reasonable price. Everyone has their own fixed budgets so nit everyone can just select any phone and buy. What would be better than to compare prices before you buy?
PriceOye.pk is a price comparison startup. Launched in early 2016, the service helps online consumers find the lowest prices for mobile phones, Compare Best Prices from the biggest, most trusted stores. Phones from all major brands – from Apple, Samsung and Huawei to Xiaomi, OnePlus and even Alcatel – are listed from places like Daraz, Telemart, and iShopping in a convenient manner. Consumers can quickly select any color and storage size and instantly find the lowest online price for it. Along with prices, users can also find complete specifications, a useful product description, and historical price charts to see how prices have changed over time.
Most of the time when you are online you find a lot of out dated data. In this case I mean old prices of mobile phones. PriceOye.pk is not one of those sites will all old data that may guide you wrong but its one of the most updated site with current prices, features and a lot more.
It is a user friendly site with a straightforward presentation of products. It has filters that help narrow down handsets based on price, screen size, processor, camera quality, storage, and operating systems.
The best thing is that it keeps you informed with changes in prices on weekly basis. We all know the prices keep increases and decreasing according to country conditions, the demand of mobile phone and lot more.
Now you don't need to visit different site to find a suitable phone. PriceOye.pk is one stop mobile searcher. No matter what company you are searching for. PriceOye.pk provides you all at one place. So its definitely efficient.
PriceOye is a welcome addition to the growing number of online stores in Pakistan. Such stores are required to give users beat services. With the efficient system we know the startup can reach heights of success if it keeps working on making it more and more flexible for users.
Lets start to Compare Best Prices on PriceOye.pk
---
You may also like