SQL PASS Lahore to hold 2nd General Conference with collaboration of Confiz
---
Its time to prove your technical skills while presenting you about any high valued Data Professional's Domain at up coming SQL PASS Lahore General Conference; with rest of the expert Data Professional Audience.
SQL PASS Lahore is organizing its 2nd general conference in Lahore with collaboration of Confiz Limited.
PASS Conference is where the big community for technical data professionals come together for learning, networking, career development.
Details General Conference
Venue: Confiz Limited. LG Floor Leeds Center, Gulberg III, Lahore
Dated: Wednesday, May 24, 2017.
Timing: 2:00 PM to 6:00 PM.
To get shortlisted for the professional meetup, the only pre-requisite for registration is that you need to have at least 2 years of experience in software development.
Registration for the conference is mandatory. So make sure you've registered for the event in time and have received your confirmation email.
Registration Process
Send an email to lahore@sqlpass.org with title "SQL PASS Lahore Conference May 2017 Registration". You need to include details about your organization, field of expertise and your experience. A confirmation email from SQL PASS Lahore shall confirm your seat in conference.
Attached brochure shall list details of honorable speakers and their expert topics.
Conference Partners:
Confiz Limited
PASS
Microsoft
If you're a developer and are looking to improve your career outlook or just to improve your general skill set, join your fellow developers at the SQL PASS General Conference in Lahore.
Let's Connect Share and Learn!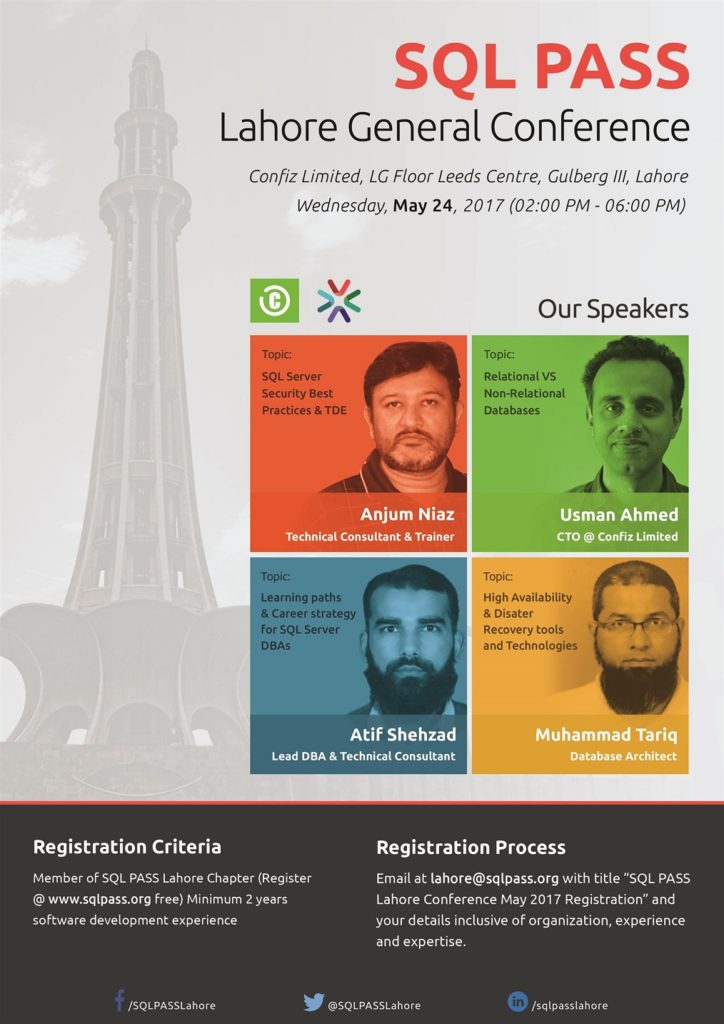 About PASS
PASS (formerly SQL Pass) is a not-for-profit organization run by and for the community. PASS supports data professionals throughout the world who use the Microsoft data platform.
PASS was co-founded by CA Technologies and Microsoft in 1999 to promote and educate SQL Server users around the world. Since its founding, PASS has expanded globally and diversified its membership to embrace all professionals using any Microsoft data technology.
If you are looking for more PASS events around the world, you should visit here.
---