JazzCash Partners with Bank of Khyber for KPK's Insaaf Food Programme
---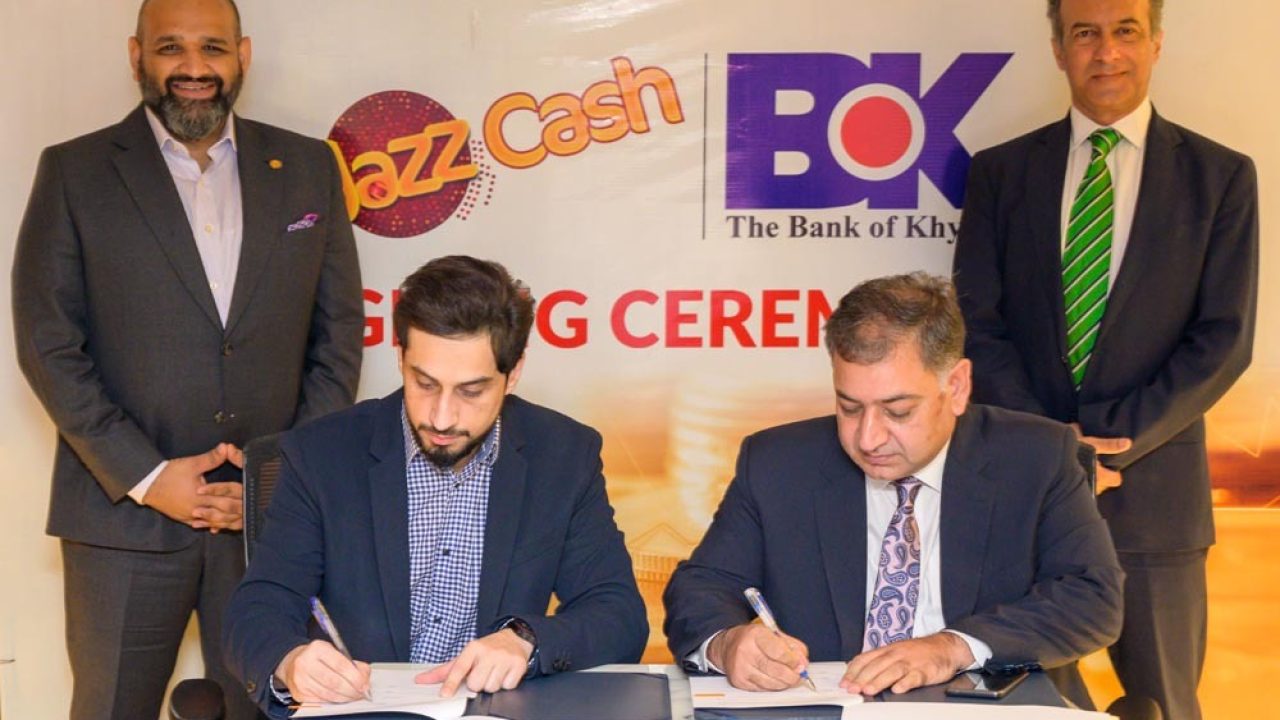 JazzCash is enhancing the nation's digital payments environment in partnership with Bank of Khyber (BoK). JazzCash users in Khyber Pakhtunkhwa (KPK) will now be able to receive PKR 2,100 through the JazzCash retail network for the government's Insaaf Food Programme, and current JazzCash users will receive money in their JazzCash mobile wallets.
Atyab Tahir, CEO of JazzCash, Muhammad Ali Gulfaraz, managing director and CEO of BoK, and Sardar AbuBakr, chief financial officer of Mobilink Microfinance Bank Limited, were present for the signing, which took place at the BoK headquarters. The meeting actually turned out to be pretty productive and positive. And it is hoped that the issues raised will be put into practise and implemented in the near future to help people understand their faith more clearly and simply.
Through this strategic alliance, JazzCash and BoK will assist the Government of KPK with their Insaaf Food Program, which requires BOK to give out PKR 2,100 every month for three years to 1,000,000 KPK residents who meet their criteria. Families will be able to make quick and simple payments using their JazzCash mobile wallets, or if they don't have an account, the funds will be sent to their CNICs. Payments can be paid out using the JazzCash retail network.
JazzCash CEO Atyab Tahir spoke at the event and said,
"Over 1.7 billion transactions were carried out through JazzCash, resulting in a volume of over 3 trillion for the year 2021. We already have 17,000 agents in our network, and we hope to expand it even more. Financial inclusion in the nation (especially among women) has always been a top priority for us through our mobile wallet, and to accomplish this, important strategic alliances like the one with BoK are essential. We are facilitating the development of a more robust finanial ecosystem in Pakistan by making services like food subsidies and healthcare more accessiblec."
Ali Gulfaraz, MD and CEO of BoK, stated: "The Insaaf Food Programme is a project by the KPK government to help 10 lac underprivileged households. All the qualifying families will be able to quickly and easily access these financial services thanks to BoK using the JazzCash mobile wallet. fostering Pakistan's diverse economy and enabling an ecology of inclusion.
The partnership with BoK is a further step toward promoting financial inclusion, particularly for the people of KPK through the government's Insaaf Food Program, which is at the heart of Mobilink Bank's goals. The Chief Financial Officer of Mobilink Microfinance Bank Limited, Sardar AbuBakr, stated that the company is dedicated to assisting the poor and leaving no one behind. Launched in 2014, JazzCash ended 2021 with 105,000 registered agents around the country and 15 million+ monthly active users.
---